Direct CRM Integrations are here!
Professional, Enterprise, and White Label clients can pass registration information to HubSpot and Salesforce directly with our native integrations.
Once authenticated, attendee information can be matched with an existing record or created as new in HubSpot and Salesforce. To locate and configure these integrations, navigate to your organizer profile, then click the Integrations tab.
Learn how to configure our HubSpot integration here.
Learn how to configure our Salesforce integration here.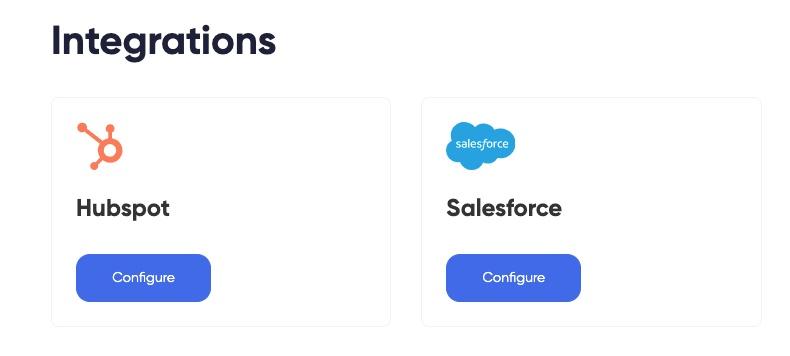 Organizers can now register a speaker as an attendee when they create a speaker profile.
Under your Manage Attendee Status settings, enable Attendee Access, select a ticket type, and click Apply. A "Speaker Registration Order" will be generated, and your speaker will have attendee access to the Virtual Event Hub.
This is available for free ticket types. Any paid ticket types will need to follow the usual registration process under "Add Attendees" or via the Event Landing Page.
Learn more about creating speaker profiles here.
Organizers can easily delete, duplicate, or hide multiple sessions with our new agenda management tool.
Check the box next to the session(s) and apply any of these changes via the menu at the top of the Agenda tab.
Learn more about the Agenda here.
Share information about your Raffle on the Event Landing Page.
You can enter a stylized description for your raffle page in the Raffle Settings. The description is displayed above the raffle's status and items. This is a great opportunity to thank your sponsors and donors!
Learn more about raffles and fundraising here.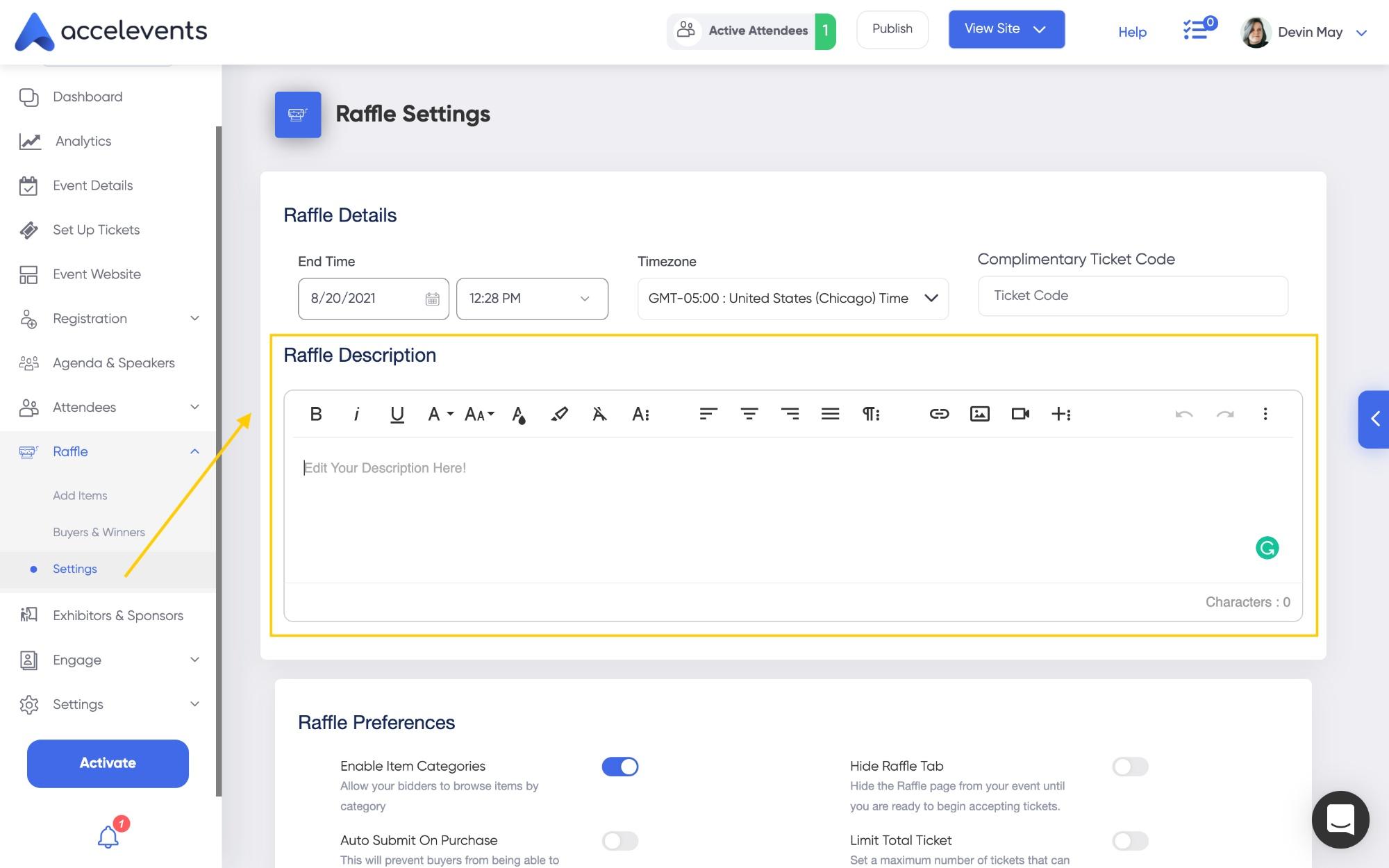 View connection analytics on the attendee level.
Organizers can view the total number of connections made by an attendee and whether those connections originated from scheduled networking sessions or independently in the Virtual Event Hub.
Check out this article to learn more about Networking on Accelevents.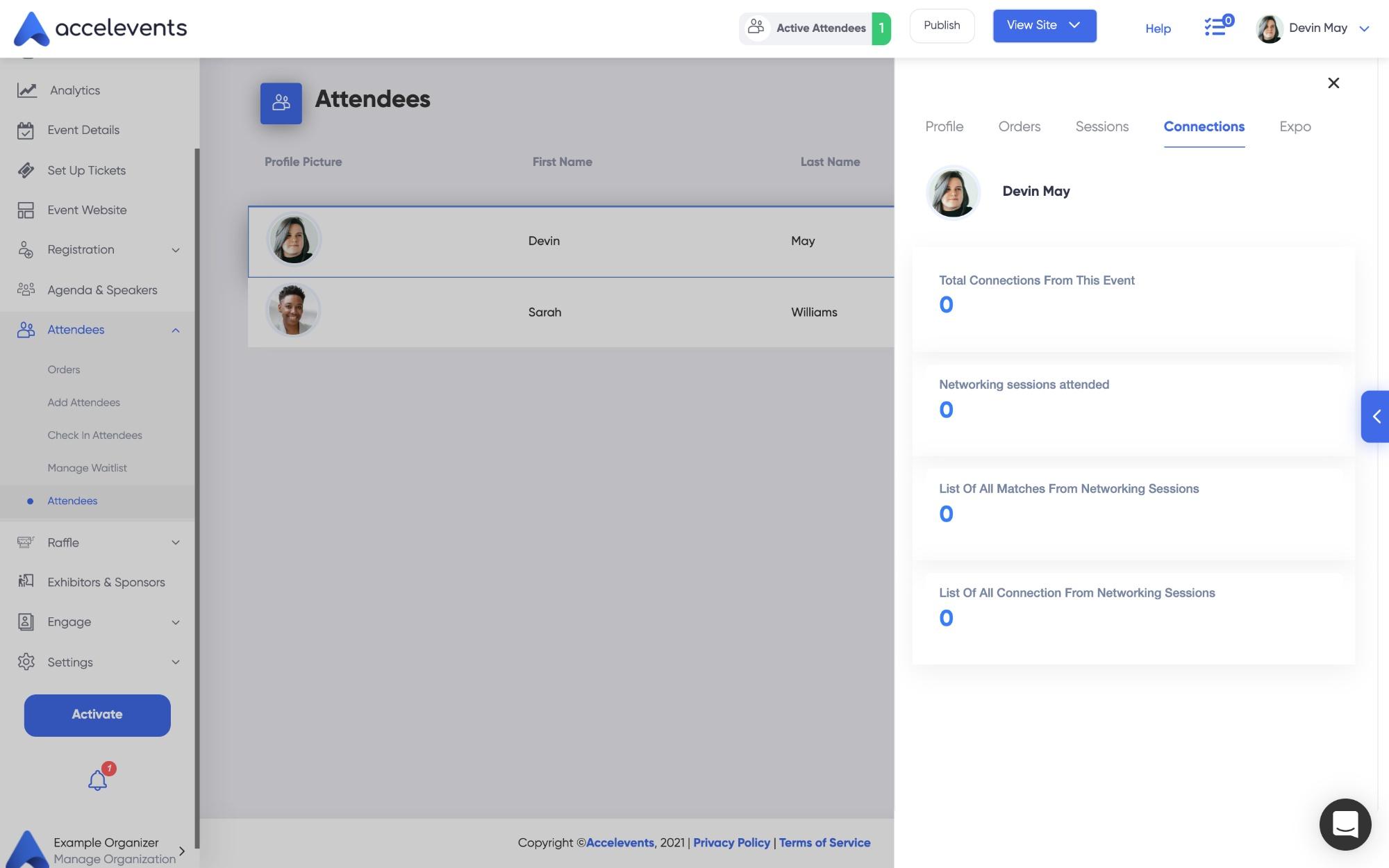 Additional Updates:
You can now assign custom colors to Exhibitor categories.
Improved the clarity of toggle controls through updated language and tooltips.
When a participant first confirms their device settings via our Device Checker tool, they will be saved as that user's default settings anytime they use their mic, camera, and speakers in the Virtual Event Hub.
We've increased the character limit to 30 for Virtual Event Hub custom labels.
We've enhanced our Zapier application to communicate any updates made to an order after registration.
The Speakers & Session CSV template has been updated. It is available for download via Import Sessions & Speakers.
Attendees can select more than one answer for a custom question using our checkbox format.
You can now edit posts in the Lobby Feed after sharing.